One Bedroom Lodges
for sale in the UK,
Starting at One bedroom our range of lodges can be built to any size to fit in with your plot. All our lodges are built to the same high standards, fully equipped with kitchens, bathrooms, lighting, heating and double glazing. A one bedroom lodge if you are starting out on the property ladder or down sizing for an eco and easier to maintain property. If it's a 1 bedroom lodge you need we have a lot to offer. Don't forget that we can build to your own design too!
The One bedroom Premium Range Lodge
All lodges will come as 39' or 40' x 14 if a one bedroom is required. This size will also allow for a small second bedroom. All lodges are insulated, fully equipped, double glazed with patio door, heating and lighting. Bathroom/s are white with towel rails, mirrors and half or fully tiled.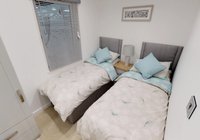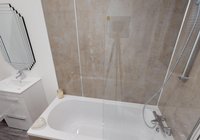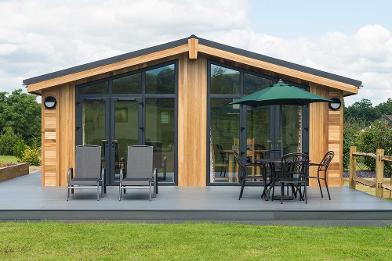 The Cawood One Bedroom Lodge 45' x 22'
This stunning one or two bedroom Lodge can be supplied with a hot tub discreetly positioned to the side and incorporated within the footprint of the lodge. This space could also be built as a second bedroom.
Please note this is a non standard decking.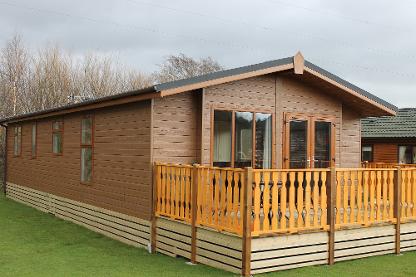 One Bedroom lodge
Lodge 39' x 14' This model shows 34' x 20'
The Bedale offers superb value and is a well thought out design giving maximum space in a 39 x 14 outer.
Open plan lodge with a kitchen, living and dining room area, it also has an en-suite bedroom
Fully insulated it is supplied with heating, lighting, kitchen and bathroom.
Built to a high specification and compliant with BS 3632 for residential living it is ideal for a holiday rental.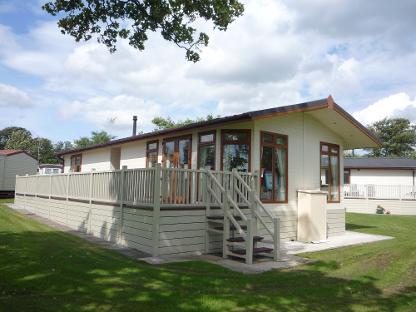 The Leyburn one bedroom lodge
One Bedroom Lodge 39' x 20'
The Leyburn One Bedroom Lodge with all the refinements you would expect from Eco Lodge Cabins The lodge is fully insulated, double glazed with heating and lighting, double glazed with French doors. The Leyburn is available in log wood finish or Canexel cladding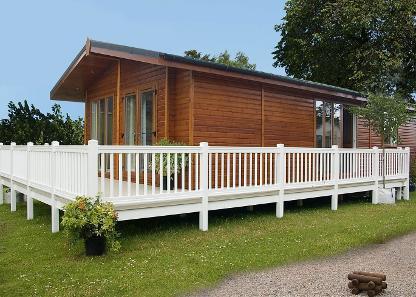 The Catterick one bedroom lodge
One Bedroom Lodge 39' x 13'
The Catterick one bedroom lodge offers great value and is supplied as with all our lodges with a superb finish and well laid out interior. Finished in Canexel or timber to the exterior, the combination of a french door and a patio door offers flexibility to suit the weather conditions. The overhang keeps the sun off the glass at its highest and therefore keeps the relaxing interior cool enough to enjoy