Four Bedroom Lodges
Searching for a four bedroom lodge? Browse our range of four bedroom lodges here.
Our four bedroom lodges are available in many sizes, fully equipped and built to a high standard.
All our four bedroom lodges are built to BS3632 or building regulations.
Looking for a four bedroom lodge? We have a range of four bedroom lodges available in timber exterior or in composite cladding for no maintenance. With layouts up to 55' x 22' we can provide a lodge that's well laid out, spacious, well insulated and relaxing to live in. four bedroom lodges offer not only a huge living space but flexibility on room usage and we can also incorporate en-suites where you need them. All our four bedroom lodges are insulated and double glazed. All our lodges are well equipped with kitchens, lighting and heating systems.
Searching for a Four bedroom lodge, The Premium Range
Our new Premium range can be built as a four bedroom lodge.
At 50' x 22' or 55' x 22. and fully equipped, Our lodges include lighting, heating, double glazing, wall coverings and floor coverings.If your looking for a four bedroom lodge these stunning lodges are beautifully made, well equipped and well insulated.
Contact us now quoting "Premium Range" and the size you need.Four bedroom lodge for sale, Residential timber lodge homes UK,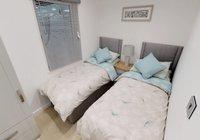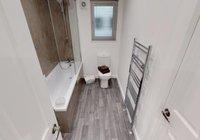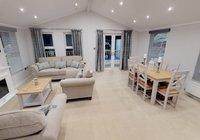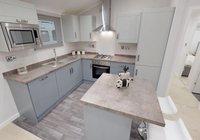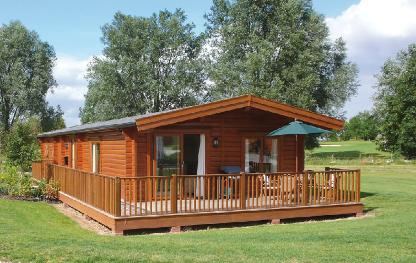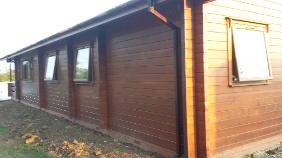 The Belle Air four bedroom lodge 6.70m x 16.775m (55' x 22')
As a three or four bedroom lodge the layout of the Belle Air uses all of it's dimensions to the best of its abilities. It comes well equipped with a high spec kitchen and bathrooms. We can also supply a furniture pack to complete your new home.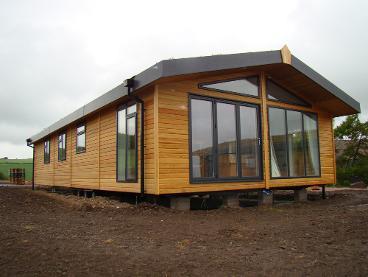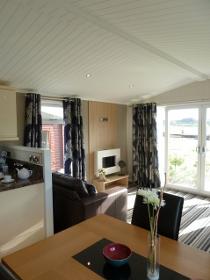 The Knaresborough FOUR bedroom lodge 55' x 22'
The Knaresborough four bedroom lodge offers one of the largest standard lodges in our range. It boasts 3 en-suites as well as a family bathroom.With a large open lounge/kitchen area, it also has double patio doors and a large picture window which can be fitted at either side of the living area to accommodate views and other practicalities. A high quality kitchen in the colour of you choice is supplied to complete the layout.
Four bedroom lodge for sale, Residential timber lodge homes UK, Four bed lodge construction, large four bedded lodges built just for you, 4 bed lodges, four bed lodges,
Eco Lodge Cabins The home of superb high quality lodge construction
Solid timber and timber framed lodges 07742 715701
Four bedroom lodge for sale, Residential timber lodge homes UK,