Wood Burning Stoves
for Lodges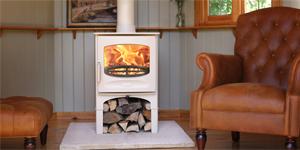 As UK manufacturers of the finest multi-fuel & wood burning stoves we aim to simplify the real fire process and bring an enduring sense of warmth and satisfaction to the very heart of your home.
Designed and built using the latest technology, our clean burning stoves burn wood, coal and smokeless fuels at maximum efficiency and output low emissions, giving a clear view of the fire. Perfect for lodge home living.
Lodges are ideal for wood burners. They provide an eco form of heating perfect to warm your lodge. We can provide a wood burner or help with an aftermarket plan to instal a wood burner.

We have carefully selected our dealers and given them the relevant training to ensure that they can offer a comprehensive pre-sales and after-sales service. They are ideally placed to recommend the correct Charnwood for your home and will give you all the relevant information regarding installation regulations for your area. Additionally should you require aftersales support or have any kind of warranty issue your Charnwood dealer is your first point of call. Therefore, to avoid disappointment, when choosing where to buy your stove we strongly recommend that you only buy through official channels where the after-sales support will be of a standard approved by Charnwood.

Your Charnwood is an excellent long-term investment designed to give you years of satisfaction and our after sales service via our official dealers is an important part of this.