Find your new Garden Rooms for Garden offices and more.
Garden Rooms for all year use. Extra Rooms - a garden office company supplying affordable, well insulated, double glazed, bespoke garden offices and garden pods, installed for all year use. Cedar garden rooms as your new garden office, treatment rooms, games rooms,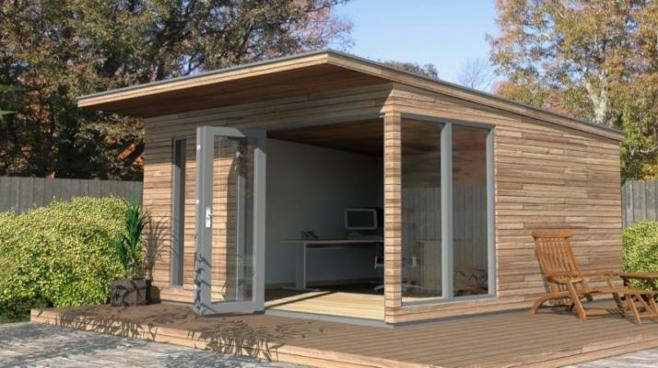 We now offer our range of Timber built garden rooms as a self build option as well as being built on site for you.
Whether you're looking for a new Garden office, a garden studio, or a treatment room to work from home. These insulated, heated garden rooms are the solution. When you need an extra room in your garden the Eco Lodge Cabins Garden Room is ideal.
With electrical sockets, lighting, double glazing and insulation they offer a relaxing warm environment for you to enjoy all year round.
A Built with the same care and attention to detail as our lodge range. All are fully insulted and supplied with lighting and double electrical sockets. With red Cedar to the exterior they are durable and sustainable. They are available in a wide variety of sizes which include from 8' x 8' to 20' x 14' Whether you're looking for a summer house, a garden office, an art studio or an extra music room we have the size to suit. A decking area, which can be extended, adds an outdoor area fo coffee break or a lounge area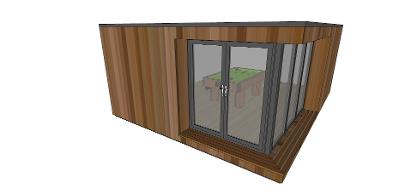 In most cases there is no permission needed for a Garden Room but please read this first!......
The Corner Glass Garden Room
Garden rooms built in a wide variety of sizes, insulated, double glazed and equipped with power points and light switches.

Bespoke sizes available. windows can be located to suit your garden and your needs.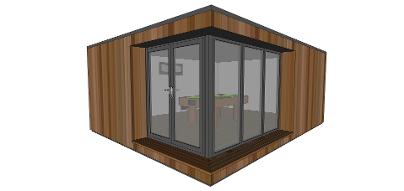 Eco Lodge Cabins design, manufacture and install a broad range of purpose-built garden offices and buildings. We create our buildings, here in our own factory, to the very highest of standards to be the most comfortable, attractive, robustand long lasting garden offices available
Garden Rooms From ECO LODGE CABINS A Trusted Nationwide Supplier & Installer. Garden Buildings Manufactured To The The Highest Standards At Eco Lodge Cabins we're proud of our great reputation, one that has been earned through years of building garden rooms and offices that delight their owners. Attention to detail is vital. From site preparation, through building, to leaving a completed project and clean space, we are on the case. All our garden rooms are built to the highest standards just like our lodges. This means that your garden room is likely to be as well built and insulated as your house. The walls, floors and ceiling sections of our garden rooms are insulated using super efficient Kingspan thermal and acoustic slab insulation . This means that even in winter when the snow is piling up outside, you'll be warm and comfortable in your garden studio or office. In summer that insulation works the other way, keeping your space cooler. It may be the best room in your house! At Eco Lodge Cabins Looking after the environment is not just a green initiative. Reducing your CO2 emissions means you are using less electricity, and that means lower bills. In a superbly insulated building, just being there is enough to generate enough heat on a chilly day, but ours also have efficient heating to ensure you can use them all year round. Our Eco garden buildings have been designed to preform extremely well against environmental and efficiency criteria -ensuring that they are sourced from responsibly managed forests. When you couple that with great insulation and high U value double glazing it means that creating a comfortable working environment in your garden. Your studio or office will be costed based on the size you require and whether self build or built for you.
A treatment room can now be built at the bottom of your garden !
Garden Rooms for sale UK, Garden spaces, Best Garden Rooms, Home Office, Treatment Room at home, Garden buildings for offices, Cedar garden rooms, Timber garden rooms, Garden offices in cedar, Garden rooms in Timber, Garden rooms UK,
Looking for Garden Rooms, Garden Office, Extra Rooms in the Garden, Garden Studio,
Treatment Rooms in the Garden, office in the Garden, Cedar garden buildings,